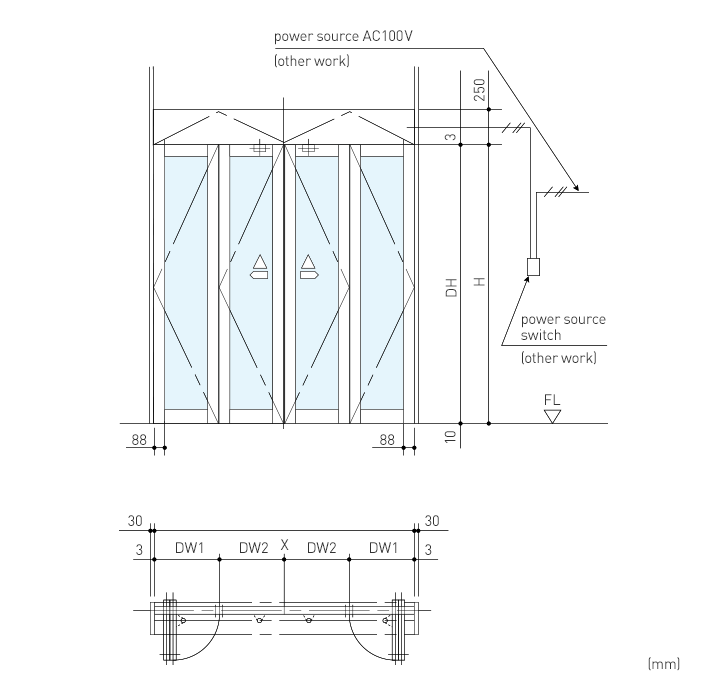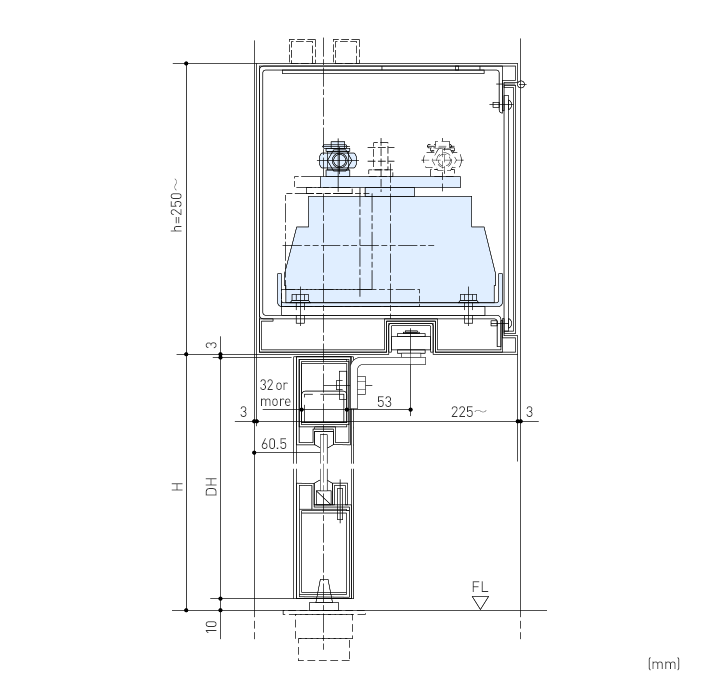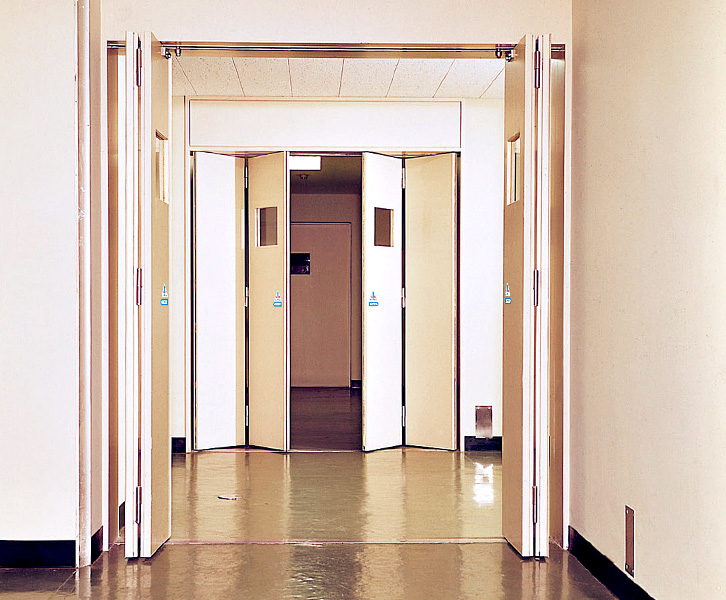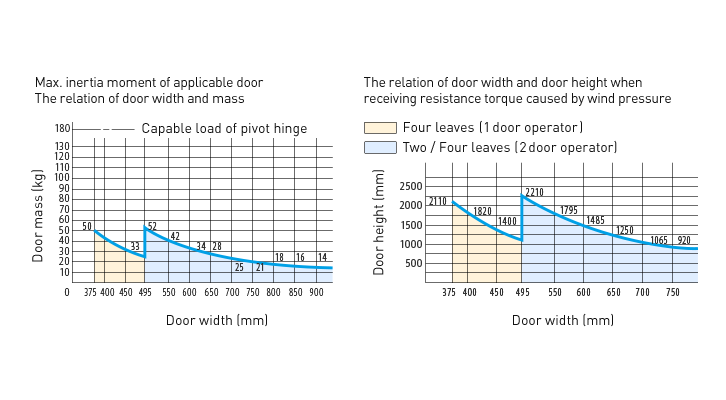 Summary
The folding door needs no door pockets and occupies a small operation space to the front and rear of the door. The door is often used for partitions, corridors, operating rooms, powder rooms, and workrooms.
Features
1) The folding door opens wide in a limited space and does not need door pockets.
2) A flat-floor structure, which has no grooves nor guide rails, has been achieved.
3) The unit automatically adjusts the driving force to achieve a consistent operating feel, regardless of door weight or external force, such as air pressure.
4) In the case of bi-parting type with two door motors, both right and left doors are automatically operated in synchronization.
5) The door is applicable to the overlapping structure of door ends (order adjusting function).
Spec
Product Name

DH-41
Folding Door
Operator

Door Operator Type

DH-41(×1)
DH-41(×2)
DH-41(×1)

Door Type
Applicable Door Mass (kg) x Door Quantity *1
Applicable Door Area : DW x DH (m):DW×DH(㎡)
Applicable Door Width : DW (mm)

375~495
495~(Reference: Table)
495~(Reference: Table)

Ave. Open / Close Speed
Power Supply

100V AC・5A
100V AC・10A
100V AC・5A

Wind Load (m/sec)
*1 The door should be used under conditions where the door unit weight will not exceed the value defined in the specification. If the weight exceeds the specification, malfunction or accident will occur.
Swing Door/Folding Door
Product Name

Operating
Method

Notes

D

H

-

4

1




S

w

i

n

g

D

o

o

r




O

p

e

r

a

t

o

r

Double-swing
Double-swing
Single-swing
Swing door with an operating unit embedded in the transom over the door

D

H

-

4

1




F

o

l

d

i

n

g

D

o

o

r




O

p

e

r

a

t

o

r

4 leaves
4 leaves
2 leaves
Folding door without door pockets

D

F

-

4

1




S

w

i

n

g

D

o

o

r




O

p

e

r

a

t

o

r

Double-swing
Single-swing
Swing door with an operating unit embedded in the floor under the door