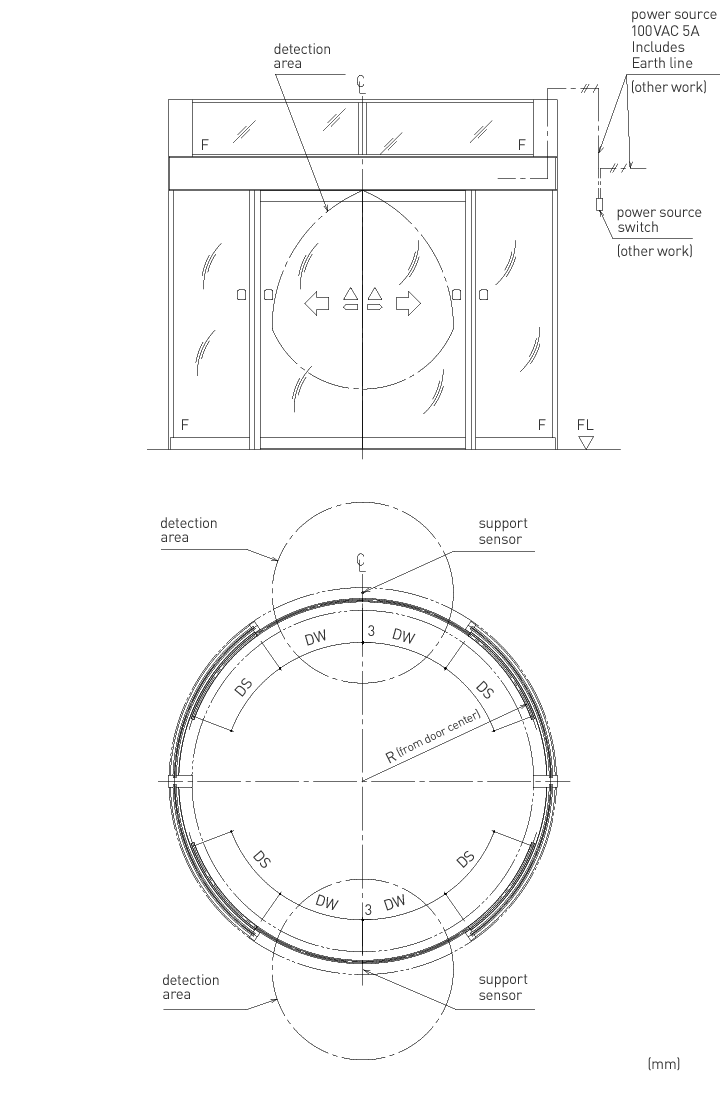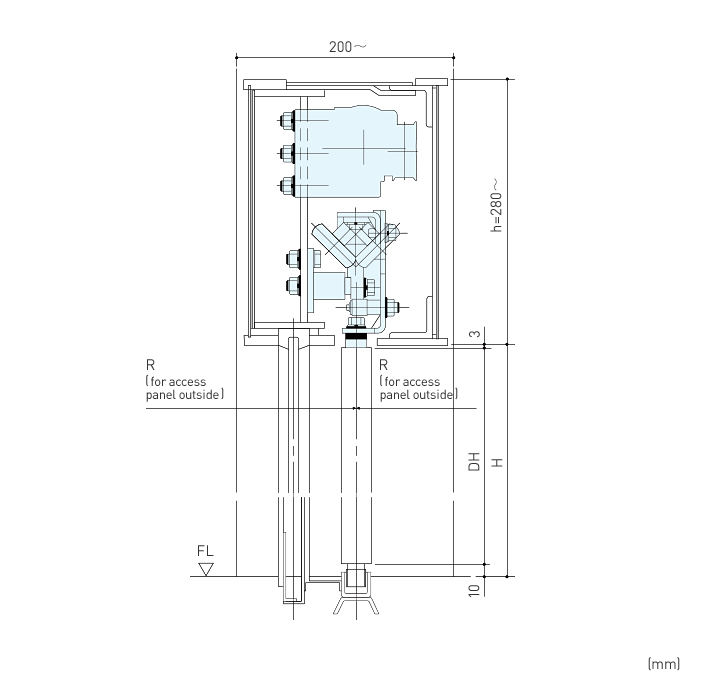 Summary
The beautiful circular form creates a graceful and luxurious entrance without losing the superior features of automatic sliding doors. Its practical design contributes to a wider door opening for the overall space and a smaller windbreak room.
Features
1) The door motor is based on the DS series (DS-75, DS-150) that employ advanced design to balance high-performance and downsizing.
2) The door offers a large choice of radiuses, from 1200 mm.
3) The microcomputer controller achieves the high quality operation and stable performance.
4) The ultrasonic support sensor enhances safety in the doorway area.
Spec
Product Name

EU Circular Door
Operator
(DS-75)
EU Circular Door
Operator
(DS-150)

Door Operator Type
Door Type

Bi-parting
Single
Bi-parting
Single

Applicable Door Mass (kg) x Door Quantity *1
Applicable Door Area : DW x DH (m):DW×DH(㎡)
Applicable Door Width : DW (mm)
Ratio of Door Height / Width : DH / DW *2
Applicable Door Radius
Door Operation Speed (m/sec)
Power Supply
Wind Load (m/sec)
*1 The door should be used under conditions where the door unit weight will not exceed the value defined in the specification. If the weight exceeds the specification, malfunction or accident will occur.
*2 The unit door aspect ratio should not exceed the value defined in the specification. If the aspect ratio exceeds the specification, the specified performance will be impaired.
*3 The speed varies according to the door weight or site environment.
Automatic door units with this logotype support the network system using CAN communication.
NABCO is the first door brand that adopted the internationally standardized network technology using CAN communication into automatic door systems.
Information networking among not only automatic door units but also optional devices, such as sensors and electric locks, has improved security and reliability, and we propose the best maintenance plan using the maintenance data that we have accumulated and managed.