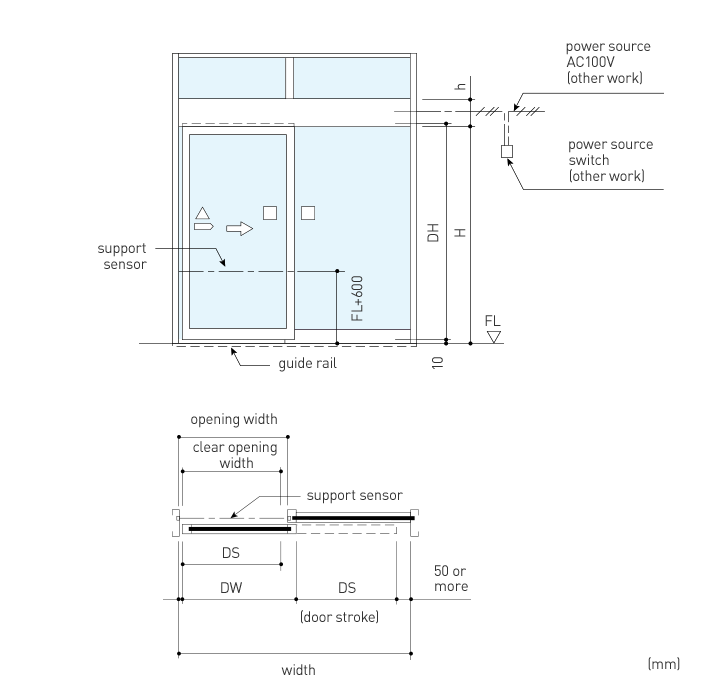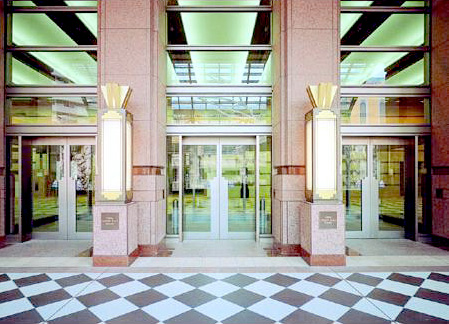 Summary
The operating unit can open/close heavy-duty and special designed doors. It is suitable for bi-parting doors of up to 250 kg per panel and single sliding doors of up to 500 kg.
Features
1) The main controller incorporates a microcomputer with sophisticated control software.
2) The adequate power margin enables the smooth operation of large doors.
Spec
*1 The door should be used under conditions where the door unit weight will not exceed the value defined in the specification. If the weight exceeds the specification, malfunction or accident will occur.
*2 The unit door aspect ratio should not exceed the value defined in the specification. If the aspect ratio exceeds the specification, the specified performance will be impaired.
*3 The speed varies according to the door weight or site environment.
Automatic door units with this logotype support the network system using CAN communication.
NABCO is the first door brand that adopted the internationally standardized network technology using CAN communication into automatic door systems.
Information networking among not only automatic door units but also optional devices, such as sensors and electric locks, has improved security and reliability, and we propose the best maintenance plan using the maintenance data that we have accumulated and managed.
Sliding Door
Product Name

Operating
Method

Notes

V

-

6

0

S

L

Bi-parting
Single
For lightweight doors

V

-

8

5

S

L

Bi-parting
Single
For middleweight doors

V

-

1

5

0

S

L

Bi-parting
Single
For heavy doors

V

-

2

5

0

S

L

Bi-parting
Single
For heavy doors (suitable for factory doors)

D

S

N

-

6

0

Bi-parting
Single
For lightweight doors

D

S

N

-

7

5

Bi-parting
Single
For middleweight doors

D

S

N

-

1

5

0

Bi-parting
Single
For heavy doors

D

S

N

-

2

5

0

Bi-parting
Single
For heavy doors (suitable for factory doors) 

D

S

N

-

5

0

0

Bi-parting
Single
For heavier doors (factory doors, etc.)